Welcome to TakeStock 2!
Welcome to TakeStock 2, the world's most popular completely free full-featured personal investment management software for Windows.
Here are some of the things you can do with TakeStock 2:
Check the performance of your stocks, ETFs and mutual funds.

Track dividend and capital gain distributions.

Get a price quote.

View a security's price chart, find historical prices and read company information.

Be alerted when a security's target buy or sell price is reached.

Identify short and long term gains for tax reporting purposes.
For a complete list of features, click here.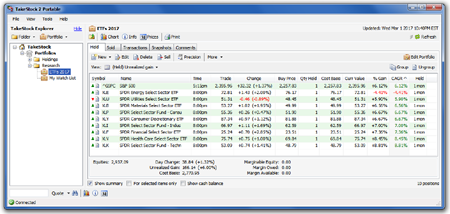 Best of all, with TakeStock 2, your financial data remains on your computer - where it belongs - and not at a website whose security could be compromised. The portable version of TakeStock 2 (see How to install TakeStock 2) even runs entirely off a USB stick, allowing you to use TakeStock 2 on different computers without leaving any data on those devices.
TakeStock 2 is 100% free, displays no advertising, and doesn't require registration of any kind.
The fine print:
TakeStock 2 obtains financial information from public sources. While great care has been taken to ensure the program runs correctly, no guarantee of reliability, accuracy of information or correctness of operation is either expressed or implied. I am not responsible for any loss that may occur as a result of using TakeStock 2. Use this program entirely at your own risk.
See also:
---
Created with the Personal Edition of HelpNDoc: News and information about help authoring tools and software